Chocolate Hills
Bohol




Share this page:

The Chocolate Hills are a geological formation on the island of Bohol and they are that island's greatest tourist attraction.

They are a series of hills that are spread over about 50 square kilometres (20 square miles) of the interior of Bohol. There are at least 1,260 of these hills (some authorities say there are actually 1,776) and they are generally cone-shaped or or dome-shaped. The height of the hills ranges from 30 to 50 metres (98 to 164 feet).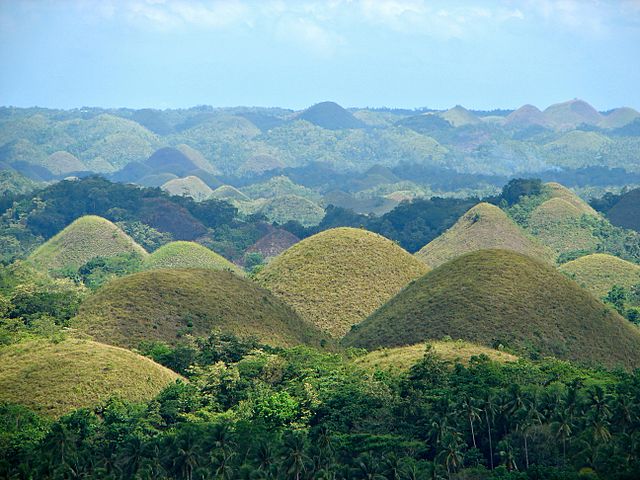 An overview of the Chocolate Hills, Bohol.

Photo: P199.



Why "Chocolate"?

The Chocolate Hills in the wet season are covered with green grass. In the dry season the grass turns to a light chocolate colour -- thus the name "Chocolate Hills". Some people have even likened these hills to endless rows of Hershey's "Chocolate Kisses!

The grass includes the Imperata cylindrica and the Saccharum spontaneum species.

Geological Description and History

Under their grass surface the Chocolate Hills are limestone.

Geologically speaking, these hills are "conical karst" hills of a type that may also be seen in Croatia, Slovenia and Puerto Rico.

[Further description] ______

Legends

_____

Tourist Resorts

With the coming of mass tourism, two resorts have been built to service the Chocolate Hills.

The first resort is the Chocolate Hills Complex near the town of Carmen. This resort is government-owned and -operated.

The second resort is Sabayan Park, located in the town of Sabayan, is privately-operated and offers views of the Hills from a deck on an elevated ridge -- as well as views over the sea that separates the islands of Bohol and Cebu.




Bohol's Chocolate Hills and a Philippine Tarsier (a small primate found on Bohol and nearby islands) as depicted on the reverse of the new 200 peso banknote issued by the Philippines.

Photo: Bangko Sentral ng Pilipinas, 2011.



Conservation

There has been an ongoing battle to conserve and protect the Chocolate Hills from mining and quarrying. Some of the Hills have historically been held in private hands and the owners have wanted to mine and quarry their hills for materials to be used in construction projects on the island.

The growth of the tourist industry has also threatened the integrity of the Hills by causing ever-increasing traffic and safety problems and by the steady construction of new tourist facilities (such as golf courses and the like).

The federal government of the Philippines under successive presidents has passed laws aimed at protecting the Chocolate Hills. For example, on 6 July 2004 the Philippine House of Representatives introduced a bill entitled "an act deckarubg the Chocolate Hills as national patrimony and geological monuments, penalizing their plunder, destruction or defacement, and for other purposes".

On 16 May 2006 the DENR (Department of Environment and Natural Resources) submitted the Chocolate Hills to UNESCO for inclusion on the World Heritage list of natural monuments.


Share this page:





Author: David Paul Wagner
(David Paul Wagner on Google+)