San Agustin Church
Manila





Share this page:

San Agustin Church (or giving its full name, the "Church of the Immaculate Conception of San Augustin") is located insided the historic walled city of Manila.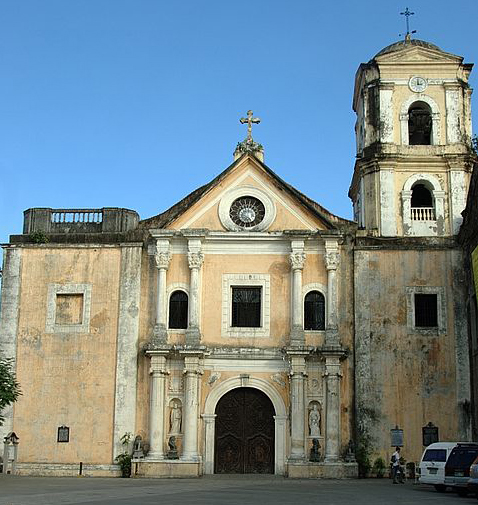 San Agustin Church in 2008




It was originally built on its present site by Augustinian monks in 1571 and is the mother church of the Augustian order in the Philippines.

After being twice destroyed by fire, the present church was built here between 1599 and 1606. Since then, it has survived seven earthquakes. The church, together with the monastery next door, was the only building inside Intramuros left standing in World War II after the American bombardment in February 1945.

The current incarnation of the church is built in a Spanish-Mexican baroque style, with some Chinese/Philippine elements added in. It features trompe-l'oeil murals on the ceilings and walls ,and a vaulted ceiling and dome.

Some of the famous Spanish conquerors are buried here -- including Miguel Lopez de Legaspi (the founder of Manila), Martin de Goti, and Juan de Salcedo.

History

The first San Agustin Church was built of bamboo and nipa (thatching palm). Construction was completed in 1571, immediately after the Spanish conquest of Manila. The church was the first Roman Catholic religious building to be built on the island of Luzon. Sadly the church lasted only three years before being destroyed by fire in 1574 during the attack on Manila by the Chinese pirate Limahong.

The second San Agustin Church was constructed on the same site and out of wood, only to be destroyed in 1583, during the funeral service of the Spanish Governor Gonzalo Ronquillo de Penalosa (the trigger was a candle accidentally setting the decorative curtains on the funeral bier alight).

The third (and current) San Agustin Church was constructed of stone. Construction began in 1586 and finally completed in 1607.




San Agustin Church after the severe 1883 earthquake, showing the cracks in the left bell tower





The church was looted during the British occupation of Manila in 1762. It survived numerous earthquakes, including that of 1863 (when San Agustin was the only public building left standing inside Intramuros) and that of 1880 (when a huge crack appeared on the left bell tower with the result that that bell tower had to be later permanently removed).

On 18 August 1898 the Spanish Governor-General Fermin Jaudanes came to the San Agustin Church to prepare the Spanish terms of surrender regarding Manila at the end of the Spanish-American War.

Amazingly the San Agustin Church survived the American bombardment of Manila in May 1945. Of the seven churches inside Intramuros, San Agustin was the only that survived without serious or total destruction.








Interior of San Agustin Church



Architecture

The San Agustin Church wass constructed in the so-called Philippine Baroque Style (also known as the Peripheral Baroque Style), in which the European Baroque style was adapted to Philippine social and physical conditions as follows:

• designed as squat, massive, monumental fortresses to protect the building from mauding invaders such as pirates

• designed with the structure reinforced with buttresses to resist the ravages of earthquakes).

Also the European Baroque style was reinterpreted by the building techniques of Chinese and Filipino craftsmen and using locally-available materials (e.g. bell tower; trompe l'oeil).

In 1993 San Agustin Church was one of four Philippine Baroque churches nominated to UNESCO's World Heritage List.


Share this page:





Author: David Paul Wagner
(David Paul Wagner on Google+)