Fabulous Philippines > Palawan Island
Palawan Island




Share this page:

Set between the South China Sea and the Sulu Sea, Palawan is the largest province in the Philippines and is often described as the Philippines' "last frontier". In this province, the largest island is named Palawan Island.

Palawan Island has been described by National Geographic Traveler as having "incredibly beautiful natural seascapes and landscapes" and being "one of the most biodiverse (terrestrial and marine) islands in the Philippines".

Palawan Island is 400 km long and 50 km wide, and has great spots for nature lovers and trekkers to visit -- wonderful areas of jungle, beach and ocean.

The provincial capital, Puerto Princesa, is located on Palawan Island and is the entry point for visitors; but the chief interest for most visitors are the outlying areas of Palawan, such as the Underground River or the Tabon Caves, or the El Nido cliffs and the limestone caves on small islands just off the coast of Palawan Island.





ATTRACTIONS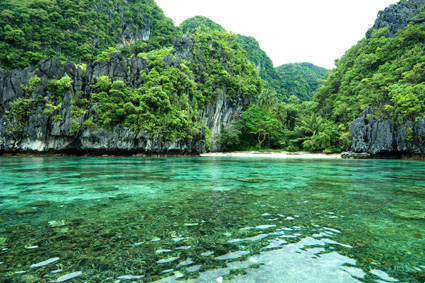 El Nido Lagoon, Palawan



EL NIDO, PALAWAN

El Nido is a municipality located about 238 km (148 miles) northeast of the Palawan's capital, Puerto Princesa. According to the CNN GO website, El Nido is the best beach and island destination in the Philippines, due to its "extraordinary natural splendor and ecosystem."

The El Nido-Taytay Managed Resource Protected Area is both a marine sanctuary (60% of the area) and a terrestrial sanctuary (40%).

The provincial government – assisted by the World Wildlife Fund – Philippines – actively patrols the area to enforce the protected status of the unique animals, plants and geologic formations.

El Nido's uniquely diverse ecosystem includes:
- 100 white sand beaches, 5 types of forest, 3 marine habitats
- 100 species of coral
- limestone cliffs
- marine mammals (e.g. dolphins, dugongs)
- endangered maritime turtles
- numerous bird species
- 813 species of fish

El Nido's tourist attractions include high marble cliffs, beautiful lagoons, caves, and waterfalls, many white sandy beaches, and jungles and mangrove forests.

CORON

Coron is a municipality located on a number of small islands in northern Palawan.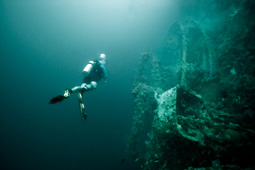 Coron Bay wreck


Coron with its beautiful unspoilt beaches and challenging dive sites is an important tourist destination. Divers can view a dozen Second World War Japanese warships that rest on the ocean bed off Coron Island.

Forbes Traveler Magazine listed Coron Island and the surrounding islands on its list of the Top 10 Scuba Diving Sites in the World.

PUERTO PRINCESA SUBTERRANEAN NATIONAL PARK
(official name: St Paul's Subterranean National Park)

This protected area is located 80 km (50 milies) north of the city area of Palawan's capital, Puerto Princesa. It has an area of 39 square km.

The Puerto Princesa Subterranean River (also known as the Puerto Princesa Underground River) was until recently regarded as the world's longest underground river.

It wends its way for more than 8km under the ground. Visitors travel along the river by boat and along the way visitors will see stalagmites, stalactites, caverns and pools. It finally emerges into the South China Sea.

In the subterranean river's waters live freshwater fish, shrimps and crabs. In the caverns live bats and swifts.





HISTORY

Palawan has been occupied by humans for at least 22,000 years – as evidenced by bone fragments of the Tabon man that have been discovered in the Palawan province of Quezon.

Ancient Times

In ancient times waves of migrants are believed to have arrived in Palawan from Borneo, having traveled by the land bridges that existed at that time.

Some of the earliest settlers were known as Aetas and Negritos (from those people Palawan's Batak tribe has descended).

In the 9th century AD Chinese travelers regularly visited Palawan and the surrounding islands.

Pre-Colonial Period

In the 12th century AD Malays arrived by sea and settled in Palawan. These Malays engaged in fishing, agriculture (growing rice, ginger, sweet potatoes, bananas, sugarcane and coconuts, and raising pigs, chickens and goats) and hunters (using bamboo traps and blowguns).

In the 13th century Indonesians from the Majapahit Empire settled in Palawan. They introduced Hinduism and Buddhism.

For two centuries southern Palawan was ruled by the Sultanate of Brunei. These rulers introduced Islam to Palawan.

Spanish Era

After the Spanish fleet arrived in Cebu and its captain Ferdinand Magellan was killed in battle there, the rest of the fleet escaped from Cebu and found temporary refuge in Palawan.

As the Spanish extended their control over the Philippines, they colonized the north of Palawan group of islands – viz., the Calamianes Islands – and then, in the early 1600s, they tried to extend their influence southwards.

Meeting resistance from Moro (Muslim) communities, they constructed churches inside fortress-garrisons to protect each new area they occupied.

Finally in 1749, the Sultanate of Brunei handed control of southern Palawan to the Spanish.

Spain ruled the Palawan islands as several provinces.

American Era

In 1903 the Americans unified all of the Palawan islands into one province named Palawan, with Puerto Princesa as its capital city.

Japanese Occupation

In 1944 the Japanese Army killed an estimated 133-141 American prisoners of war whom it had captured in Bataan. This was to be known as the Palawan Massacre.

Palawan was liberated from the Japanese by Filipino and American soldiers in the period from 28 February to 22 April 1945.


Share this page:



Author: David Paul Wagner
(David Paul Wagner on Google+)