Manila Cathedral
Manila





Share this page:

Located in the Plaza Roma, Intramuros, Manila Cathedral is the main Roman Catholic church in the Philippines.. Officially known as the Manila Metropolitan Cathedral-Basilica, it is the seat of the Archibishop of the Archdiocese of Manila, who is normally regarded as the Roman Catholic Primate of the Philippines.




Manila Cathedral in 2008



Manila Cathedral is actually the eighth cathedral to have been built on this site, the earlier ones having been destroyed by earthquake, fire, or war (including an almost compete destruction during the Second World War).

History

In its first years (1571-79), the site of the present-day Manila Cathedral was a parish church known as the Church of Manila and it was governed by the diocese of Mexico.

In 1581 the first Manila Cathedral was built and consecrated on the site of the former Church of Manila. The materials used were nipa (palm used as thatch), wood and bamboo – readily available materials that were used in building houses at this time. This cathedral was damaged by a typhoon in 1582 and then was destroyed by fire just two years later in 1583. The fire began during the funeral mass for a Governor General in the nearby San Agustin Church. The fire burnt that church, and later the Manila Cathedral, the bishop's residence, and many other buildings in Manila.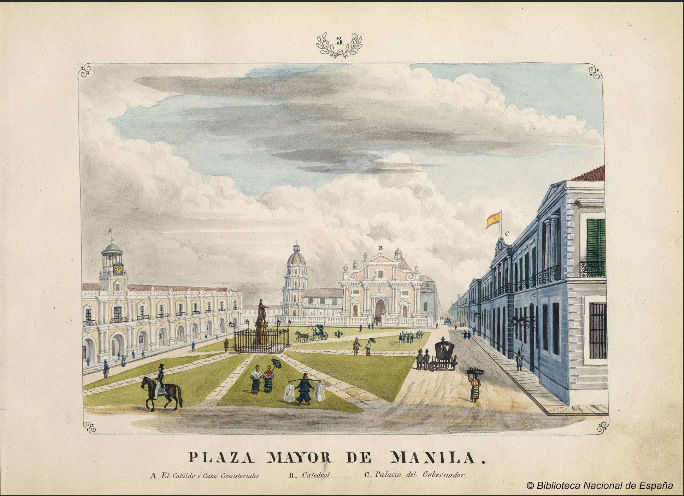 A view of the Plaza Mayor de Manila (now Plaza Roma) in 1847.

Center: Manila Cathedral; left: Ayuntamentio (Town Hall); right: Palacio del Gobernador (Governor's Place).



The second cathedral was then built on this site – this time of stone – in 1591-92, but it too only lasted a few years when it was almost completely destroyed by an earthquake in 1600.

The third cathedral was then built. Construction (again in stone), was finally finished in 1614 (complete with three naves, seven chapels, and ten altars) but it was damaged and its structures weakened in an earthquake in 1621. Then the entire cathedral was destroyed in two massive earthquakes in late 1645.




Manila Cathedral, 1880 -- as it was before the earthquake of 1883.





Manila Cathedral after the 1883 earthquake




A fourth cathedral was now built. Construction began in 1654 under Archbishop de Poblete and work continued until 1751.

By the early 1700s the Cathedral fell into a dilapidated state (the hardwood flooring, wood arched ceiling, the roof, the retablos, the choir area, in fact everything except the walls were in a deplorable and often in a frankly dangerous condition) and it was decided that a complete restoration was required. Juan de Uguccioni , a Florentine architect and engineer, was engaged to partly demolish and then reconstruct the fifth Manila Cathedral.

The British invasion of 1762 saw the looting of the gold and jewels kept in the Cathedral but the building itself suffered no damage.

The earthquake of 1862 caused quite of damage, including to the front facade.

Sixth Cathedral (1858-63)
Restoration of the Cathedral was undertaken, with the Baroque facade of Juan de Uguccioni being replaced by a Neoclassical facade.

Seventh Cathedral (1879-1945)
Huge earthquake of 1863 destroyed the Cathedral - also destroyed the nearby Ayuntamiento (City Hall), and the Palacio del Gobernador (Governor General's Palace).
New Manila Cathedral and finally inaugurated 16 years later in 1879.
Architect: Serano. Style: ___
Earthquake of 1880 - bell tower lost.

Eighth Cathedral (1945-Present Day)
Cathedral destroyed in heavy bombings during Battle of Manila in 1945.
New Cathedral designed by Ocampo. Style, materials: ____ (incl Carrara marble). Constructed in the period 1954-58. Inaugurated in 1958.
Events:
-- First Filipino cardinal
-- Pope Paul VI
-- Cardinal Sin
-- Quadricentennial
-- Pope John Paul II; Beatification of Lorenzo Ruiz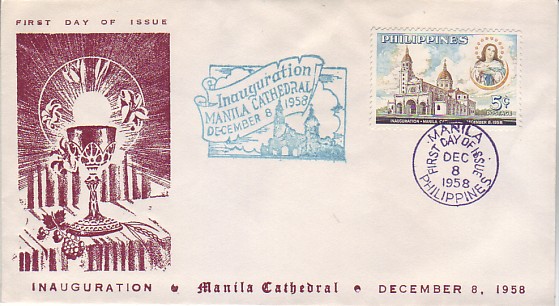 Burials and Funerals

A number of important church figures have been laid to rest in the crypts of Manila Cathedral. These have included Cardinal Jaime L. Sin, an important leader in the People Power Revolution of 1886.

The Cathedral has been the site of the funerals of two former Presidents of the Philippines, including President Corazon Aquino, who was President in the 1986-92.

Architecture of Manila Cathedral

The architecture of the current Manila Cathedral is in the Romanesque Revival (or Neo-Romanesque) style.

It features a magnificent cupola, stained glass windows and mosaics, and restored walls from the earlier cathedral destroyed in 1945.

Its facade is a replica of that of the seventh incarnation of the Cathedral (the one that was reduced to ruins in 1945). A number of the statues of saints are also replicas of statues that stood in the Cathedral before 1945 (however, the current statues have been sculpted from Roman travertine stone whereas the pre-1945 statues were carved from molave wood).

The current cathedral has a large organ with 4,500 pipes which was built in the Netherlands.

In 2011 the bells in the bell tower were lowered to ground level to help prevent a bell tower collapse in any future earthquakes. The bells, weighing 17 metric tones, are currently the largest bells actively used in the Philippines.

More info: Architecture section of manilacathedral.org


Share this page:





Author: David Paul Wagner
(David Paul Wagner on Google+)